After almost 3 months of being with Santi 24/7, I finally accepted two freelance projects which required me to be away from home 4 hours at a time. I finally had the confidence, guts and heart to leave him with my mum for event #1 and with 'M' during event #2.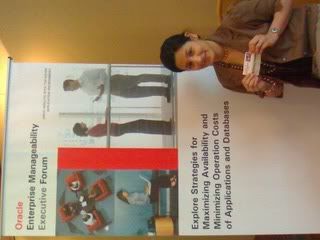 Project #1 was a corporate event by Oracle, one of the clients of 'M' held at the Shangri-la Makati. I also invited co-mummy Dee to help with the ushering of the guests. The night before the event, 'M' kept bugging me to bring breastpads (and to remind Dee as well) because he didn't want his client to see two lactating ladies at his event! Haha!
During the event Dee and I kept talking about our babies. In between opening doors and greeting guests - we were exchanging stories about how heavy Santi and; Benny is
na
, how much we missed them, and took turns in the
banyo
in pursuit of manually pumping our engorged breasts. Now isn't that hilarious?!
Monica
: We are reduced to this. How brainless.
Dee
: Haha I Know!
Monica
: It's ok. We are mastering mothering skills (which is more profound).
Project #2 was the Collezione C2 Media Fashion Show held at the Crowne Plaza Galleria. I had promised Robbie (a very gay friend of mine and 'M') I would help him out. He does PR for OneUp, a company he recently put up with a partner.
Again, I did the menial task of handling the registration booth for the media. Although, I was happy to see old faces and friends.
Of course, I couldn't stop thinking of Santi. I flooded 'M' with text messages:
"How is he?"
"Has he eaten?"
"Is he crying?"
"Has he stopped crying?"
(Later on I found out how annoyed 'M' was. I guess he could not handle 'parent multitasking'- carrying and pacifying Santi while replying to all my textes)
After having registered all media attendees, I did some important reading. Dee lent me
The
Happiest Baby on The Block
, which I think is more helpful & far more interesting than any of the baby books I've read.
Realizations after being away from Santi for a total of 8 hours:
I love him so much more!!!
It is liberating to be by myself, driving my car once again. 'Alone time' is good too!
Bringing a pump with me is a

must

since I really do get so engorged (ugh that rock-hard and itchy feeling).
A realization of 'M' after being with Santi for 4 hours without me:
Being a stay-at-home mom is no joke.
'M'
: I can't believe you do this all day long! I have a new-found respect for you and appreciate you more!
You see, switching roles is healthy for couples even if it's just for 4 hours! ;)